"My brain is the key that sets me free" ~Harry Houdini
Mālama manaʻo means "mind care", which is vital to our health and wellbeing. At Mālama Manaʻo Brain Wellness Center, we offer non-invasive, non-pharmacological, science-based Transcranial Magnetic Stimulation (TMS) and Magnetic qEEG-Guided Resonance Therapy (MeRT). Both TMS and MeRT treat brainwave dysfunction linked to symptoms like depression, anxiety, brain fog, poor focus, poor sleep, and more, via the application of gentle, non-invasive magnetic waves. Let TMS and MeRT help your mind function at its best so you can live your best life. 
Over 10 years of treating children and adults
Over 1000 satisfied patients
WE TAKE CARE OF OUR PATIENTS!
ASSESS
Begin with a consultation with our clinician and complete a painless, quick qEEG. The qEEG records brainwave activity to detect any areas of dysfunction. qEEG data is then used to formulate a personalized treatment protocol tailored to your brain's unique needs.
TREAT
Following your one of a kind protocol, gentle magnetic waves are applied to targeted areas of your brain in our office by one of our certified technicians using an FDA-approved TMS device. MeRT treatment consists of 10 daily sessions over the course of 2 weeks (Monday-Friday).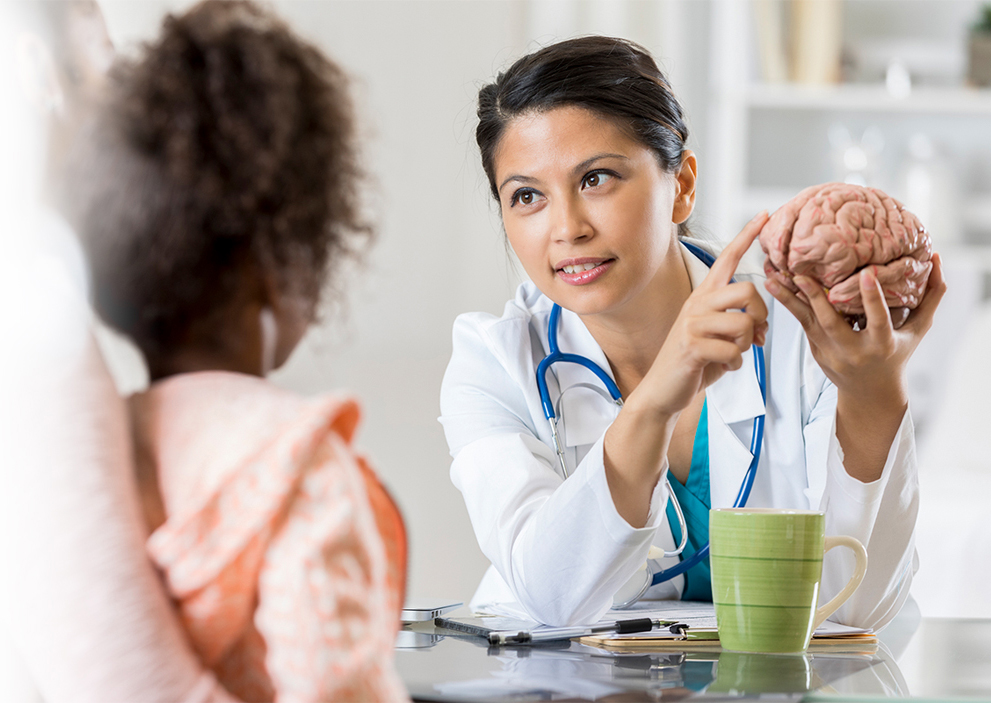 Our TMS Process for Depression
WE TAKE CARE OF OUR PATIENTS!
ASSESS
Begin with a call to our patient coordinator who will  collect your depression history. Then meet with our clinician who will assess your candidacy for TMS & TMS insurance coverage as well as collect pre-treatment data.  
TREAT
An FDA approved standardized TMS treatment protocol is delivered in our office by one of our technicians. Each TMS treatment period consists of 30 daily TMS treatments over the course of 6 weeks (Monday-Friday).
Parent of a Child with ADHD
Are you having issues with your child getting into trouble at school?  Or do school administrators ask you if you've had an assessment of your child?  Let me tell you, the [Malama Mana'o] staff saved our family!  If we didn't stumble on [them], we would still be receiving daily behavior updates, with no clue what to do. Going through the therapy has been a game changer!  Rather than having to call my son 10 times before I get a response, he now answers by the first time.  This has truly been life changing and a blessing. You guys are miracle workers!!  Thanks!
Chris Cole
Afghanistan Combat Veteran
Former Defense Intelligence Official
After just about every conventional treatment failed to reduce my PTSD symptoms, Magnetic e-Resonance Therapy at [Malama Mana'o] proved to be totally transformative for me. It significantly reduced my anxiety & depression, greatly improved the quality of my sleep, and had a lasting positive impact on my mood — truly remarkable considering it's non-invasive, painless and does not involve the use of any pharmaceuticals. The clinician patiently guided me through the science and helped me at every stage to optimize the treatment protocols for my specific condition and symptoms, while the MeRT technicians were always gentle, supportive & knowledgeable. I cannot recommend MeRT enough for anyone who, like me, has struggled with treatment-resistant PTSD. Mahalo!
So Young
Mother of a Child with Autism
In the early phase of treatment, even though he slept, he didn't sleep very deeply (didn't sleep 9-10 hours deeply). After we came to [Malama Mana'o], he started sleeping 9, 10, and even 11 hours a night. After he stopped taking his medications, he didn't experience any side effects even though he did have side effects due to the medications. If it wasn't for this treatment, I don't think this would've been possible. The way he speaks even changed after starting treatment. He puts more emphasis and emotion into the way he speaks rather than being monotone. He can even multi-task in a way where I talk to my child and he is something else at the same time after the treatment. This wasn't possible before. He is able to be more playful with children his own age and be more involved in his group compared to before. Before, he wasn't able to understand when a certain thing is appropriate to do at a certain time. For example, he really wanted to do something at this moment but couldn't comprehend why he couldn't, even though it was inappropriate to do so at that time. This issue has been overcome. Before, he didn't want any material items but now he emphasizes more than he really wants something. The biggest thing I have noticed is my child's ability to generate more emotion with everything. As for eating, he has become more open to eating compared to before. Before, he used to cause a fit when trying to be fed by me. Now, he is enjoying eating food by himself. His favorite food is ketchup! I never imagined him to change this much. I question myself if my child needs to keep continuing this treatment. I recommend other people to consider this treatment because I never imagined how much it would improve my son's life and how effective it would be. Doing this treatment was a last option for my child and it seemed to have worked to a great extent!
Annie R.
Mother of a Child with Autism
As a mother of an autistic non-verbal, six-year-old daughter, we went into MeRT not expecting much change. The doctor and staff exceeded my expectations with the MeRT. After our 6-week treatment with Hope and her kind patient ways with my daughter, we came out with more positive than could be imagined. My daughter has become more focused in school and at home. For the first time, she actually called her dad, 'Dad,' with she never said before. Her aggression has dramatically decreased. I'd always be bruised from her pinching, biting, and scratching but it has altogether stopped. Mahalo nui loa!
Mother of a Child with Autism
Traveled from Korea for MeRT
This summer our child was treated at the Hawaii branch. There were many worries and difficulties, but I think it was a good thing to do. In terms of interaction, there are more and more areas where you can see positive changes. And after returning to Korea, you can sometimes see new expressions. There are still many problems to overcome, but I feel much more comfortable compared to before treatment. Even the slightest changes mean a lot to children and their families, so I recommend that you receive them with a little more relaxed mind rather than expectations that may be too grand. Thanks again to therapist Kyanna for always being kind and giving us the best despite our lack of communication 🙂
Sister of a Sibling with Autism
Traveled from Korea for MeRT
We did MeRT at the Hawaii center with my brother who has autism. It was not much easy to try this treatment in another country but I think it's worth it. There are some positive changes with his interaction and more new benefits have occurred even after coming back to Korea. We still have many other problems to go through but he looks more calm and comfortable compared to before. Thanks a lot again for Kyanna technician who gave us all her best and for always being nice even we have language barrier 🙂
Parent of a Child with Anxiety
MeRT made a huge difference for my son. He suffered from frequent anxiety attacks (several per week). The staff were very kind and knowledgeable. They made the MeRT sessions fun and painless for my son. We did 6 weeks of treatment (5 days a week) and the improvement has been profound. His anxiety attacks have almost completely disappeared. This made a huge, positive difference for him at school and at home. Thank you!
Parent of a Child with Autism
Traveled from Korea for MeRT
I treated my child at the btc center in Hawaii in the winter of 2022. My child was diagnosed with autism in Korea and has a lot of difficulties. So, I tried various special treatments in Korea, but the results were disappointing. After much consideration, I did not have high expectations even though I was receiving treatment at the BTC Center in Hawaii. But by the end of the treatment, I noticed a definite change. However, I was curious about how people would react to this change I felt when I returned to Korea, and I wanted to see if the effect would be maintained.
This is the reason I am writing this after a month since I returned to Korea. My child has increased basic interactions since treatment and so far. The quality of eye contact and action imitation improved, and the number of verbal expressions increased. Also, my child often wakes up at dawn, but the quality of sleep has also improved. There is still a long way to go, but I hope it gets better. Although special treatment has been performed in Korea for a long time, no treatment has changed the quality of eye contact like this. Also, Hawaii's weather, sea, and relaxation seem to have helped a lot. If I have a chance, I would like to visit the Hawaii btc center again.
Parent of a Child with Autism
Traveled from Korea for MeRT
Frankly speaking, we did not anticipate a dramatic miracle from the treatment coming to Hawaii. The most valuable lesson we have learned through this treatment was that we now understand the reasons behind my son's behaviorism. We understand better why he acts in certain ways. We also realized a little more about the directions we should consider and approach in order to find solutions. Conclusively, the best treatment result we experienced was we noticed much better eye contact.  My son responded much more naturally when his name is called. We saw curious eye contact rather than discipline/trained eye contact."
Allow our Patient Coordinator to connect with you by leaving your contact information below.
677 Ala moana blvd #950
Honolulu, HI 96813